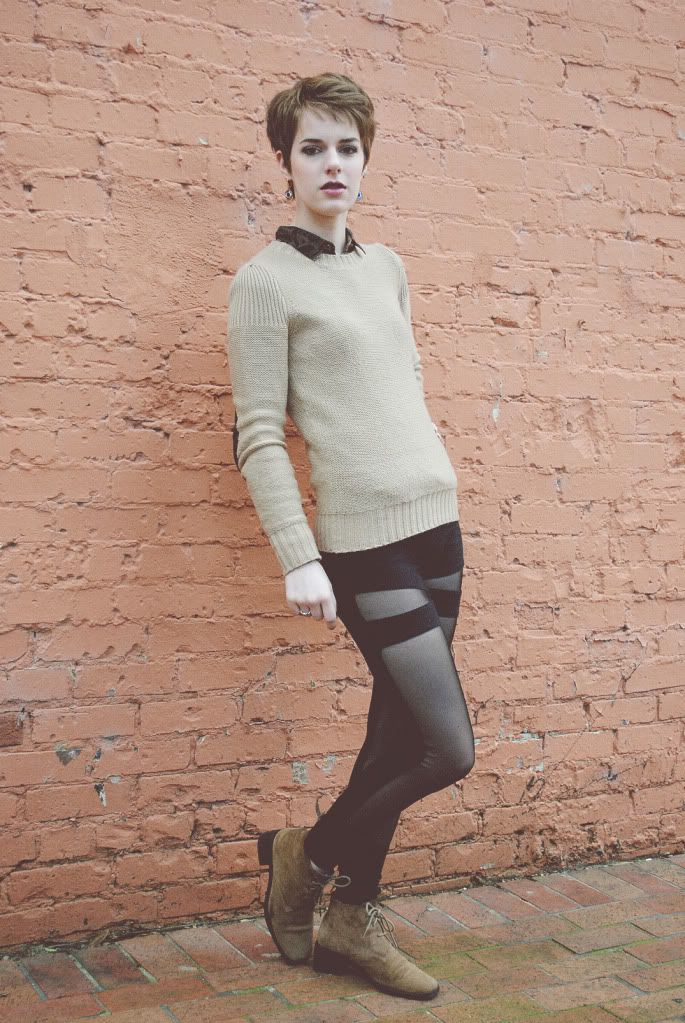 sweater - f21, button up - thrifted, leggings - UO, shoes - thrifted
Don't be fooled, this photoshoot was taken in extremely windy weather and was absolutely freezing. All the outtakes were hilarious, my contacts were so dry because of the wind I look like I'm going crazy very slowly and I'm side-eyeing everyone...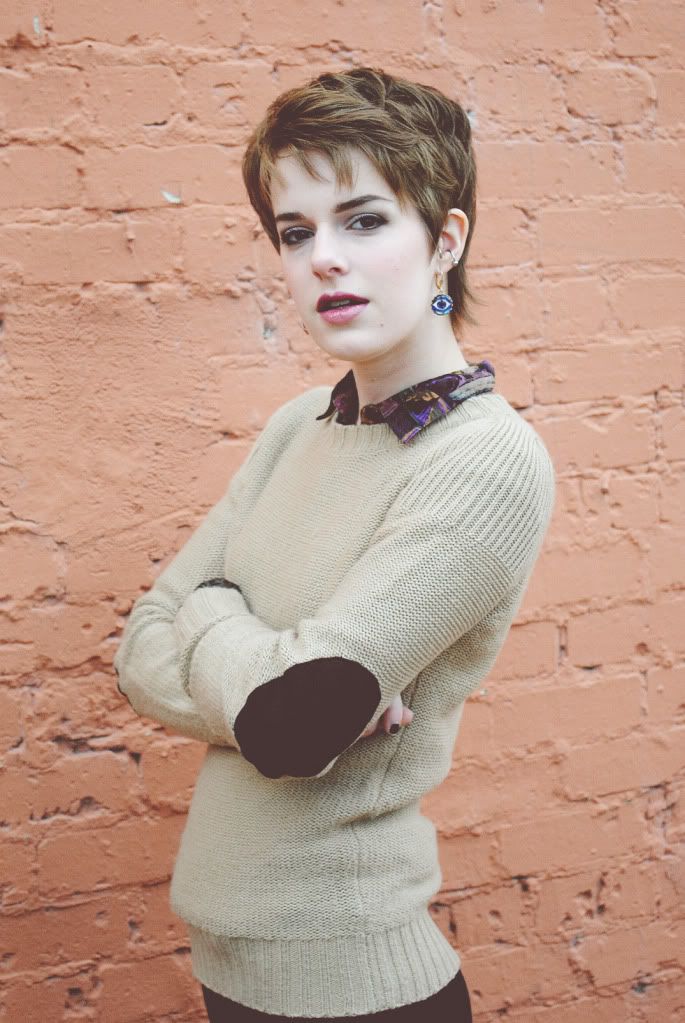 Let it be known I'm
obsessed
with elbow patches. Obsessed. I've been wearing this sweater in all sorts of variations lately....Also I live in button ups. Just saying. Great for layering. But you knew that.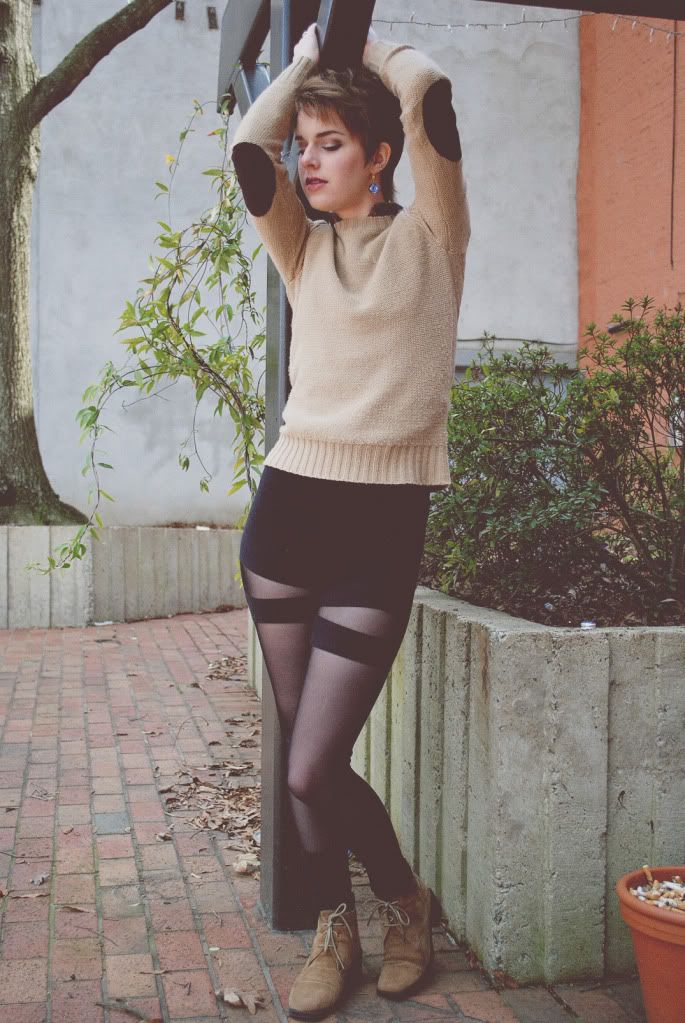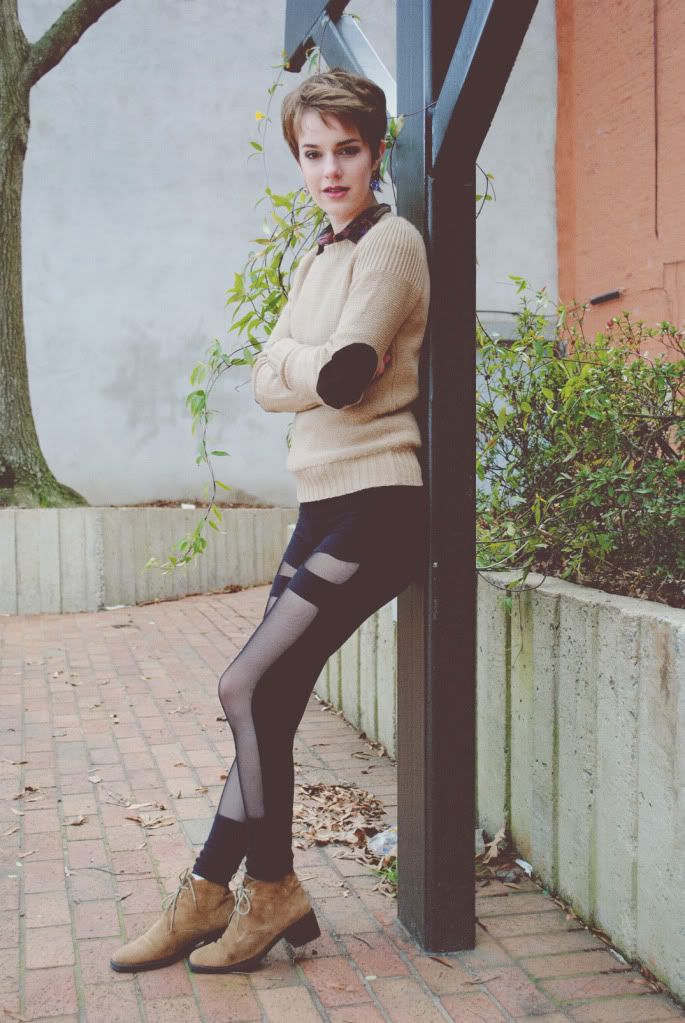 These past few weeks have been very difficult for me, not to make you pity me. You know the saying "when it rains, it pours"? My rainy life weather has been challenging the Richter scale, frankly. I wish I could tell you I've remained positive and optimistic. But what I have discovered is that sometimes when life sucks supremely, there are small "happy moments" life provides. I wore this outfit to college a few weeks ago. I have a long tread to my first morning class, over several flights of stairs and across the entire camp. It's a very lonely time, an optimal condition for daydreaming/dwelling on insecurities. While I was making my way up my final flight of stairs this random guy passed me and said, "excuse me, but were you the girl wearing those crazy black tights the other day?" it took me a second to register what he was talking about, but I remembered I wore this outfit recently so it must have been what he was talking about. He then proceeded to tell me "I could be a model" which left me with a smile for the next 15 minutes. I told him not model, but fashion blogger. You just have to take reassurance where you can get it, I guess. (What vanity...)
Also: OMBRE LIPS. Thank you, Nylon, for inspiring me. When I thought about attempting this, I was immediately bombarded by the memory of my childhood halloween costume of Queen Amidala from Star Wars...Remember those crazy red and white lips? I kept smearing mine throughout halloween night. I figured with ombre lips, I'd wind up doing the same thing. But nope. I've mastered the art of not pressing my lips together.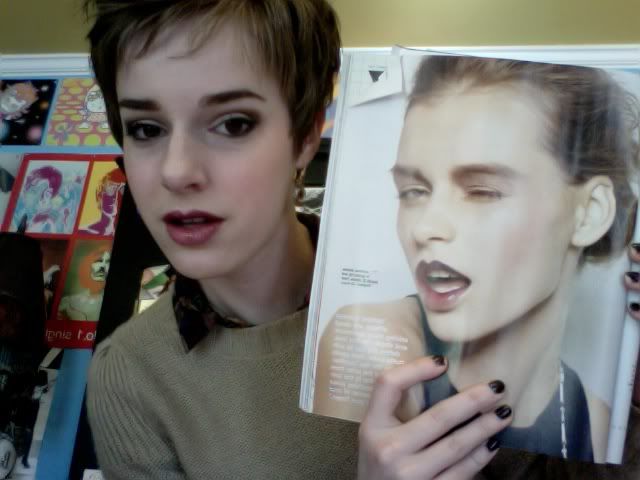 Perhaps a clearer picture of what I had in mind....I have a feeling this won't be the last you see of ombre lips.
-h.