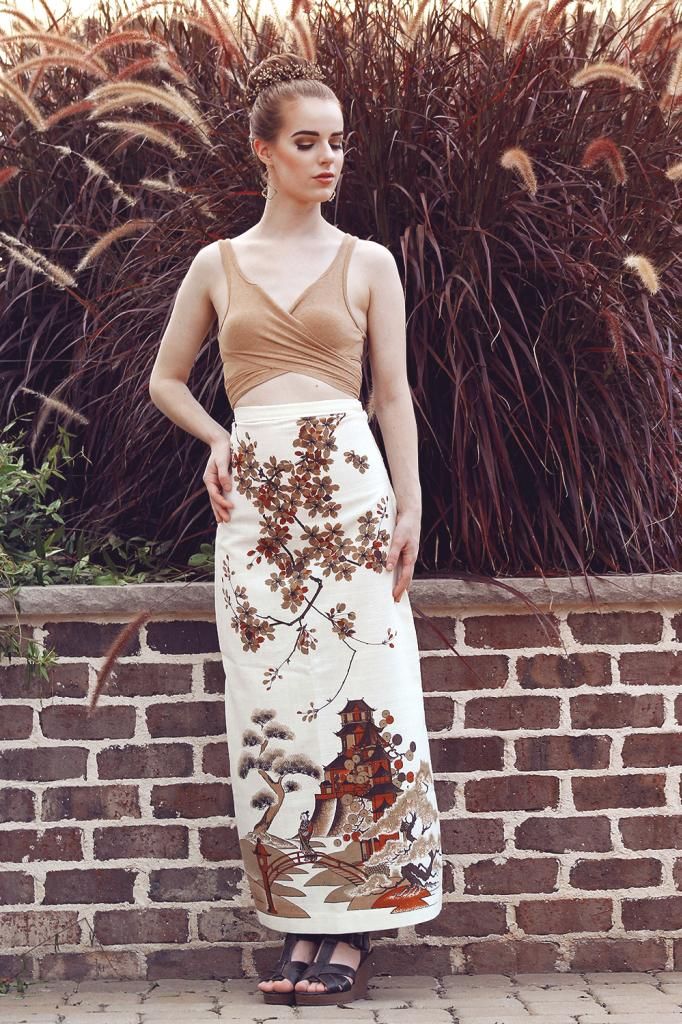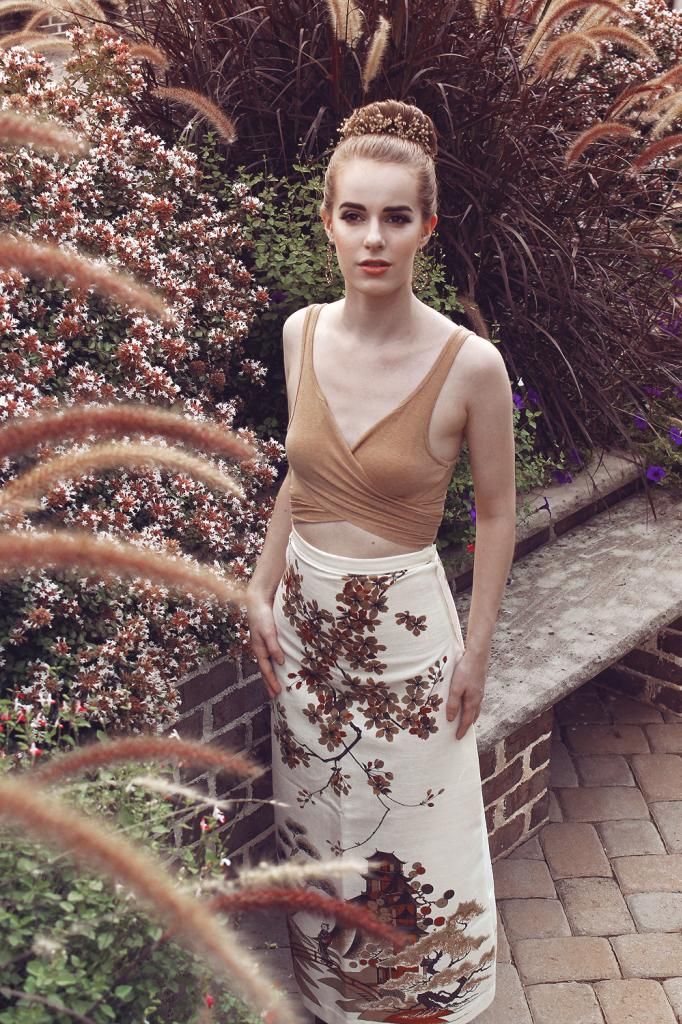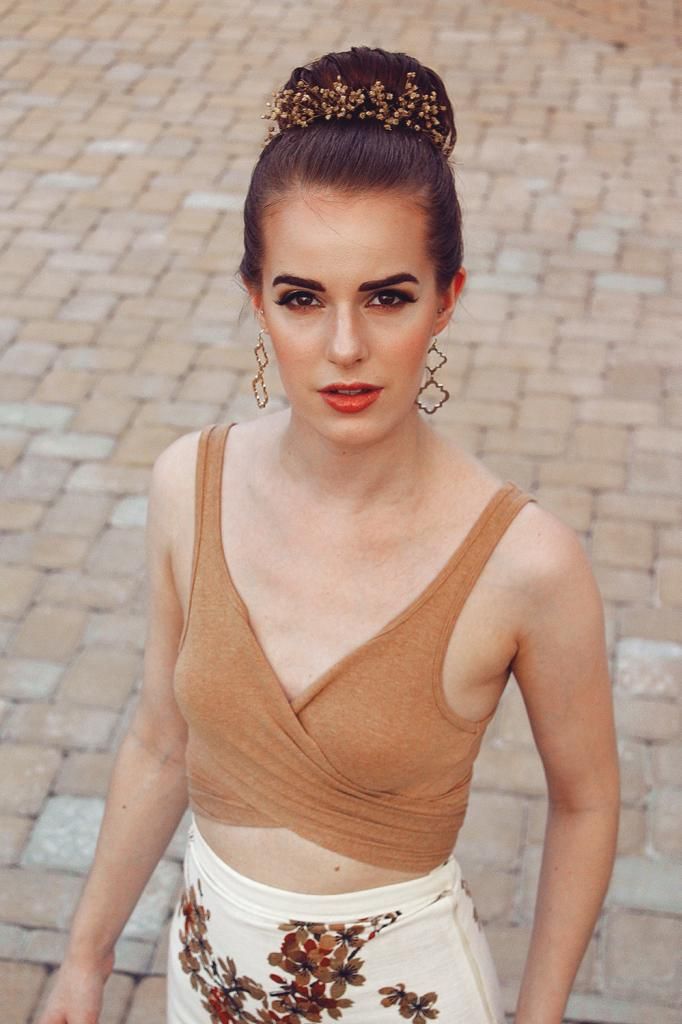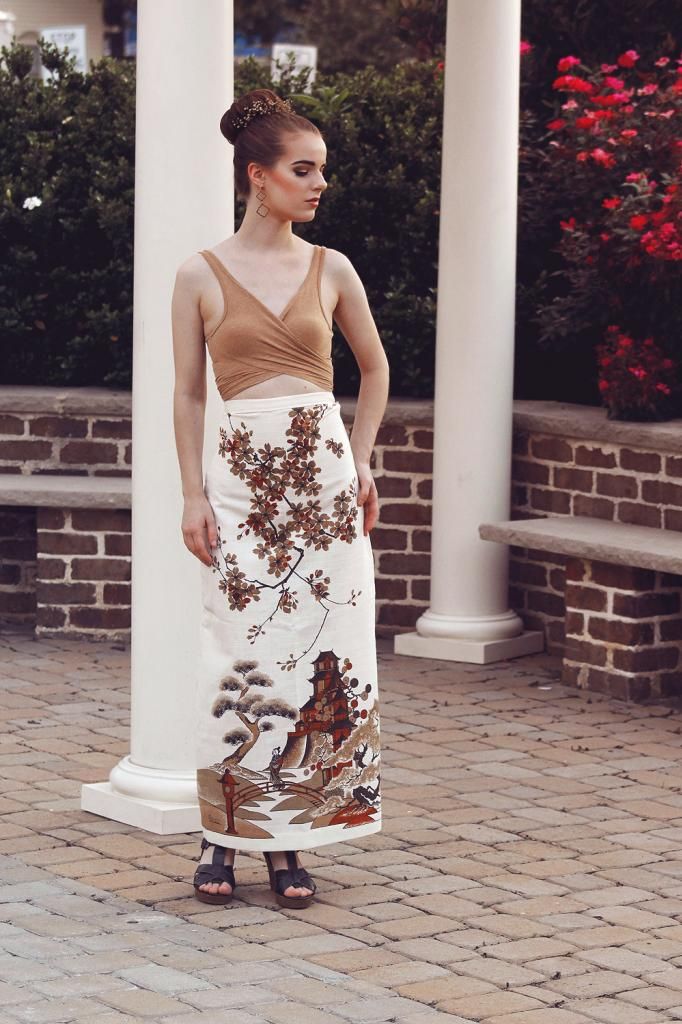 ~
There really aren't enough occasions to dress up for in life.
I've always loved formal wear; it means we're going places. Something special is about to happen. I think the real appeal of wearing costumes is that it allows us to take on different characters or personas so we become someone else entirely for an evening. Wearing this look feels like something out of a story. And what's even cooler is that I made two of the items I'm wearing with very simple steps which I will explain below.
This is a linen maxi skirt I found in goodwill many years ago. What's amazing about this skirt is that someone hand painted the scene on the front and back. It was also made in Hawaii. Apart from these minor details that were inscribed on the inside of the skirt, I know nothing about it. Other than the fact I don't think it was actually intended for wear. I might not look it, but I was slightly suffocating.
Clearly this photoshoot was taken back in warmer weather, but I still want to talk about maxi skirts for a moment. I usually see people sporting them in spring and summer months, going for a relaxed but boho feel. I have two maxi skirts in my closet, one with a black sheer overlay (I DIYed it and made the black skirt underneath it shorter…More on that later, perhaps?) and another paisley printed one with a thicker material (which was also handmade, apparently). Recently, in this bitter cold weather, I've taken up the practice of wearing the paisley skirt with a pair of leggings underneath and I've found that this provides far more insulation against wind than wearing pants alone.
Here's all it is to it: get a tank top, lay the top face down, cut along the seams in the back and cut across just under the bra line. Turn the top over, and measuring correctly, make one sweeping cut up the middle. It's not much to look at in this form, but to wear it, you cross the two long pieces you've just made, tie a knot in the back and tuck in any corner pieces around the neckline. Viola! Having used a random tank top from my drawer, I do advise DIYers to grab a top that is long. I can't stress this enough. The one I had barely made the cut. The top needs to at least reach slightly below the hips… If not, you won't be able to tie it in the back. Although the tutorial and I used solid colored tanks, I would love to see what this looks like a with a patterned top. You'll also want to be aware of the type of fabric you use…Realistically, I doubt this top has much longevity, especially if you have to wash it (I would hand wash it if you absolutely have to) but I made sure to use a jersey fabric because it stretches and doesn't easily become threadbare.
I made this hair accessory out of a thrift store floral arrangement I found for twenty-five cents. All I did was spray paint it a metallic gold and let it dry. Using one of those packaged sponge buns you can find at most beauty suppliers, I pulled my hair into a tight bun and placed the floral pieces accordingly. However you want to place them is up to you; I went for a denser, fuller look. With hairspray and a little faith, they neither shed nor broke, but driving in a car with a low roof was a challenge! When not wearing the arrangement, you can use it as a nice decorative display by putting it in a vase on your vanity or night stand. Isn't it so cute?!