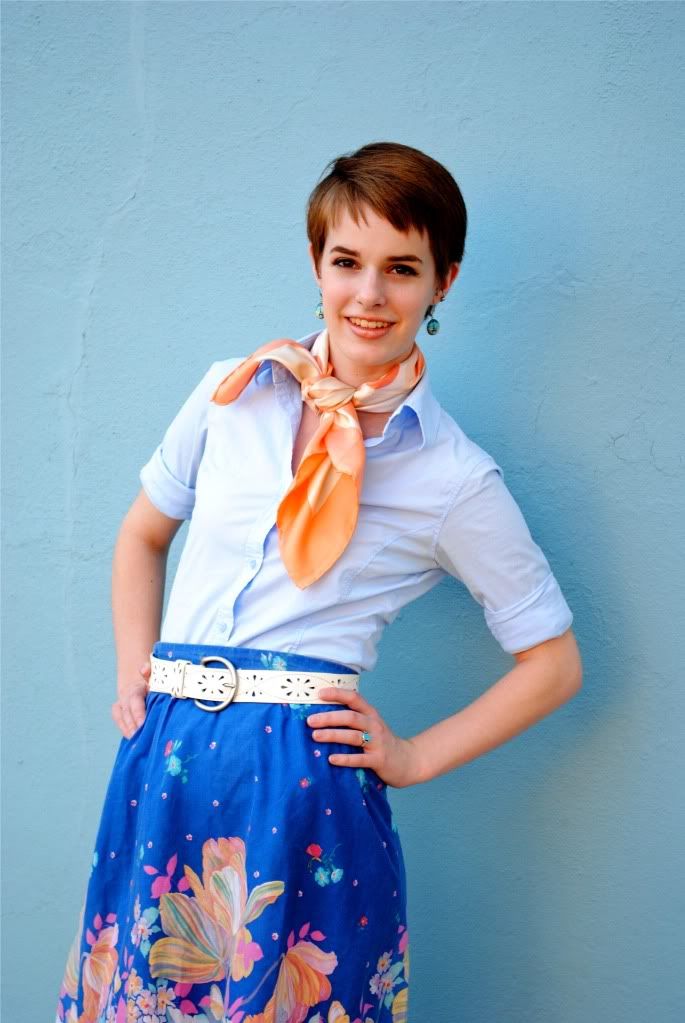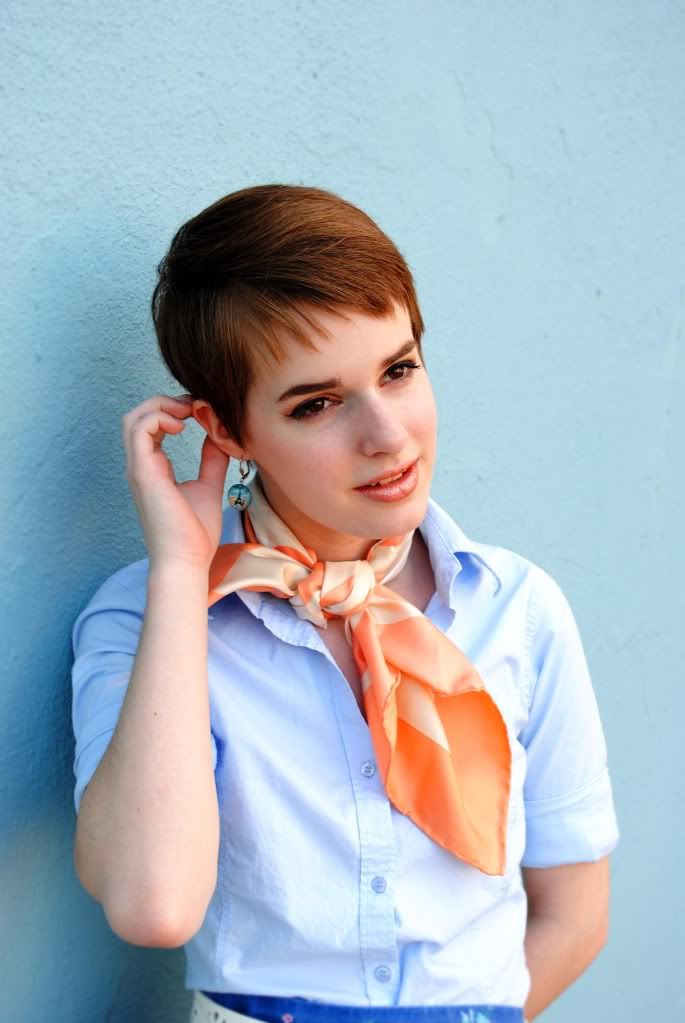 shirt - forever 21 (old), skirt - family vintage, belt - borrowed, scarf - borrowed, earrings - vintage buttons
Notice anything different? Unless your powers of observation are minimal, I CUTTED ALL MY HAIRSES OFF.
I've finally joined the ranks of Twiggy, 1950's Audrey Hepburn, Edie Sedgwick, Mia Farrow and other 60's mod era fashion icons and hacked off my follicles. I hate to use cliche words such as "empowering" but I really do feel so liberated with short hair. I donated that alarmingly heavy pony tail to Locks of Love so someone in need can have the hair I once babied.
I've always been in love with a woman who could pull off short hair (see list of style icons I adore listed above) I always worried I'd come off too manly, because of my large nose... 3 days later and I don't regret a thing except that I didn't do it sooner. It's changed my view of the beauty standards. I'm embracing it. I've been told time and time again (though the compliment never gets old) that I favor Emma Watson. I completely adored her makeover, and as we all know, every good artist copies, every great artist steals. How could you not love her with short hair?! Too many girls feel limited to having long hair because it's safe. That's been the reoccuring theme I've heard among reactions to my dramatic makeover: "Oh I wish I could pull off short hair!" YES YOU CAN! Just do your research, and try it! It'll always grow back. What was really helpful for me, and it might be a fun experience for anyone who wants to just play around, is this
virtual makeover site from InStyle
that allowed me to try out several pixie cuts. It's fun just to play around with!
My mom made me promise that when I have short hair, I must wear lots and lots of dangle-y earrings. I have no problems with this. (image: emma-watson.net)
Ok, enough about hair, let me tell you about the outfit: did it ring any bells? This was an impromptu look heading out the door... The inspiration is quite literal and taken from Audrey Hepburn in Roman Holiday. Remember when she hacked off all her hair? Yeah, that's exactly how I felt after I cut all mine off. Roman Holiday is one of my favorite Audrey Hepburn films.
(image: en.wikipedia.org)
I hope to continue updating regularly again. Classes have taken over my life, and I thoroughly miss my "me time" that photoshoots provide. xx
-h.