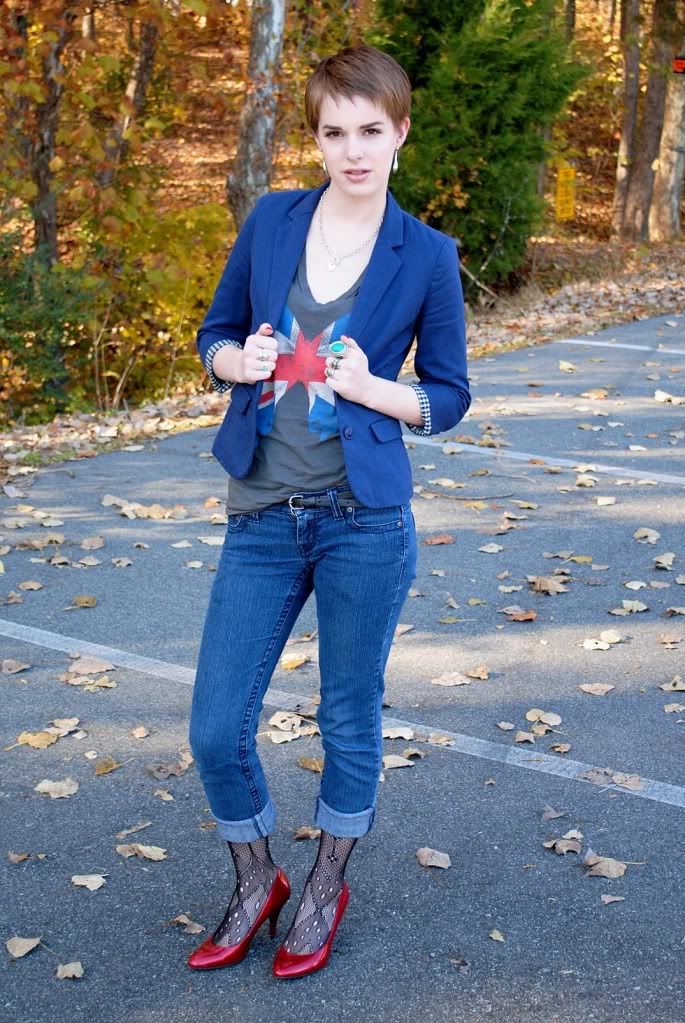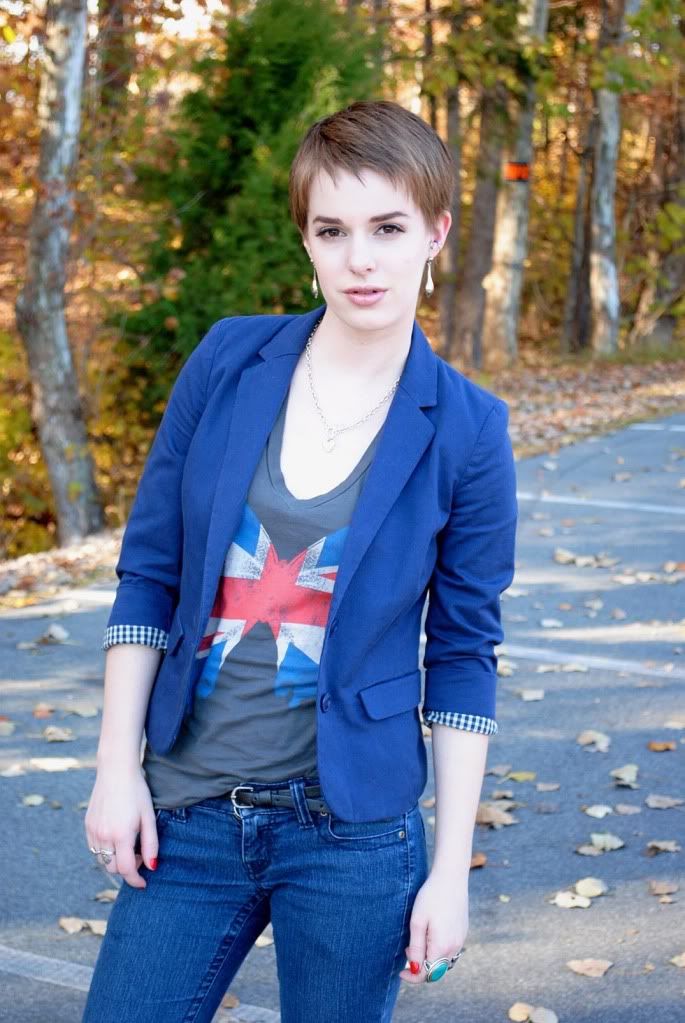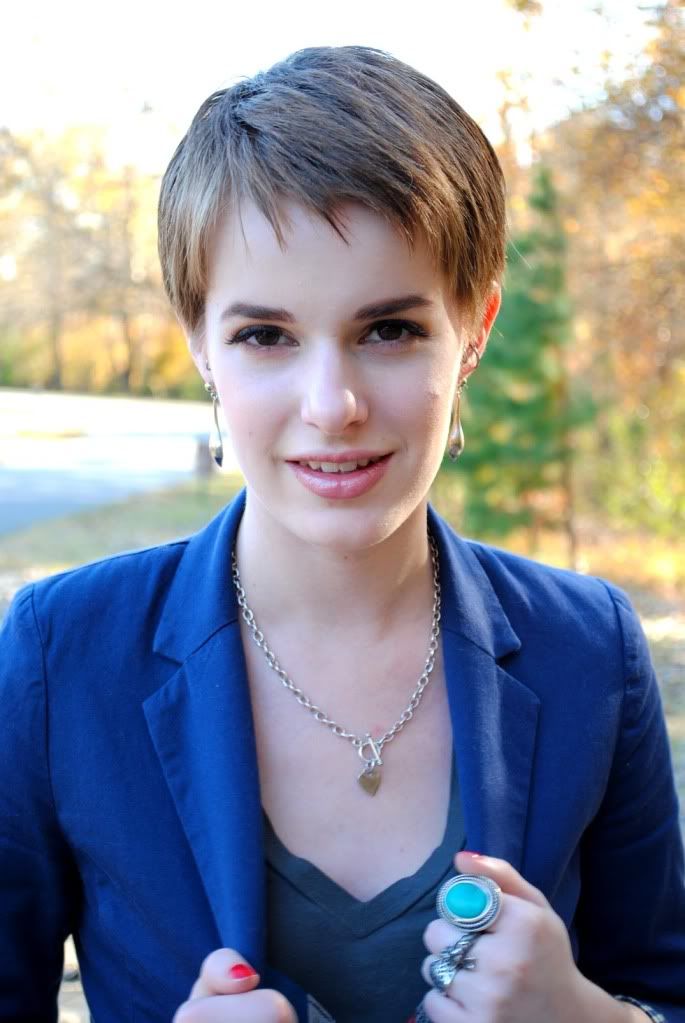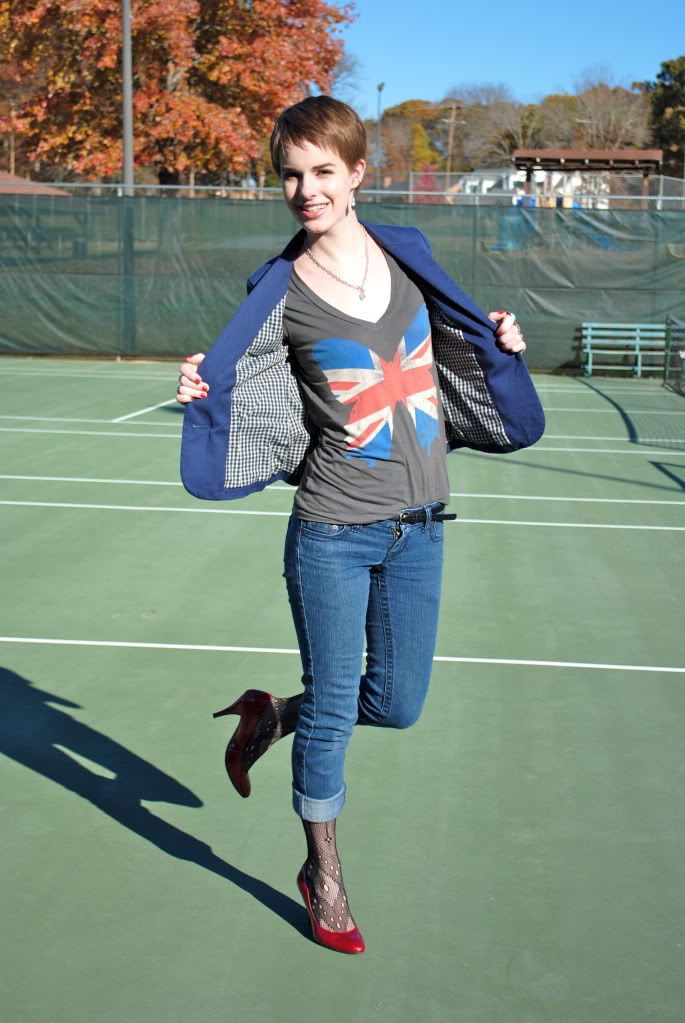 Blazer - borrowed, t-shirt - Urban Outfitters, jeans - f21, tights - Urban Outfitters, shoes - gifted

It finally happened.
I was truly mistaken for Emma Watson from someone ready to ask for an autograph. No, I'm still not down from cloud 9 yet. Why exactly a British starlet would be cruising around a small town in North Carolina in line at a pizza restaurant, I'm not exactly sure. But accordingly, a famous rap star was reportedly spotted around that area recently and this dear girl kept her eyes peeled in case anyone else famous prowled the scene. Don't blame her. Smart girl.
Should've faked an accent and gave her my autograph anyways. But I'm not that mean... So I'd like to think.
You know, I had absolutely no intention of relating this story to my latest look, but alas, perhaps I can make a cheap connection to the union jack on my chest. Bah ha!
So a lesson in styling:
I think we as fashion consumers have a habit of wanting to make all of our outfits perfectly match, bonding this idea with the notion it might look more "high fashion" and that we put more "effort" into it. I compare this with the days I search like an animal for clothes on my floor that are still clean when matching and style is the last thing on my mind rushing out the door for classes.
But when is matching,
too matching?
I nearly paired this shirt with some adorable union jack earrings borrowed from my mom. Looking in the mirror I thought, hmm. I'm already putting my focus on the union jack here. You don't need two. One's good. I also nearly wore red lipstick. Again, there's red in the shoes, the shirt, and even the nails.
I guess the rule of thumb here is...
If you see one major focus color (red in this case) two times already, any more than that would look too centered on that color. You want complimenting colors, a palette full of choices, not a reoccurring theme.
The goal is to look

effortless,

which I don't know about you, but it's a struggle for me. The more we try and put everything in our closet together that matches, the less "magic" we have in the look, I suppose. It looks rehearsed.

These are all crude judgments forged by yours truly and her opinion, I could be speaking against what every person as a stylist with a career has ever fought for in her life. But I don't take back what I said - In a common, every day look, I think these are helpful tips. That are unisex. I've told my dad before that he was wearing too much of one color ("does a gray shirt, with gray pants and gray chucks look good?")

Funny enough, I used to
only
wear t-shirts at one point in my life, now I can't stand being caught in one if I'm not heading to bed. This was an exception. Blazers + t-shirts = makes any casual look just that cooler. I really like this look on guys. HINT.
Rambled enough, got homework to do.
-H.